Well, welcome back to the LCK Summer 2022!
Let me briefly introduce you what had happened in match Gen. G Esports vs DAMWON Gaming inside the strongest, for now, tournament in the Korea over the LoL discipline. For many reasons, the number of high skill Pro teams in LoL territorially gathered in Korea, especially - DAMWON Gaming, DRX, Gen.G Esports and, of course, T1 . That is why this tournament is so spectacular to watch! But, sometimes we can be busy watching the whole battle online. In that case, you can easily check out our overview about LCK Summer 2022 in Korea, in particular Gen. G vs DWG, the first match of the second week in tournament.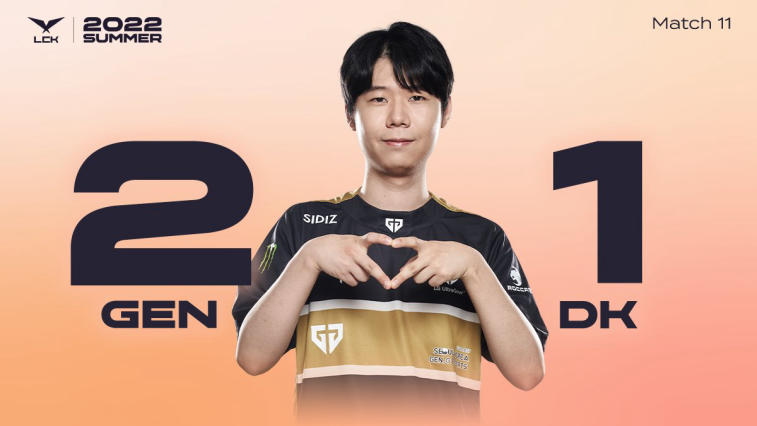 What about first game? After pick stage, when the whole heroes appeared Gen. G took pretty much strong heroes in this meta, like Zeri, Viego and Ahri. It helped them to contain the aggression by DWG, anyway, till 20th minute we can notice balanced fights and map control by both teams. But, after time, Zeri, as a hard late game ADC started to burst enemies one by one. What is more, it managed to Gen.G to kill Nashor as fast as it possible and then, with enormous benefit they took a fight with DWG. As a result, nice quadro kill by Zeri (Ruler) and destroyed Nexus. 1-0 for Gen. G.
Second game was really tough! DK made a couple of conclusions during pick stage. First of all, they decided not to ban Zeri, because it is much easier to counter her by Sylas and Wukong via stun spells. Up to 20 minutes of second match it was kindly hard to determine the leader, but, strong combination of Sylas and Yuumi destroyed all plans of Gen G tactics. What is more, DK made a wonderful distract of the opponent by going in Nashor pit, while Sylas and Gragas burned Gen G's Nexus. 1-1
Final round was both important for Gen. G and DK. Gen G picked 2 great heal supports in combination with burst cores like Gangplank and Corki. DK team, unfortunately, lost the pick stage not even trying to counter pick the opponent. As a result, total domination by Gen. G all over them map - they took 4 dragons, Nashor, all side towers and then, at 28the minute decided to end up with enemies. Congratulations to Gen. G, well-deserved victory.
[break]matches_4Jndy-Cdn[break]LCK Summer 2022 is taking place in Korea from 15th of June 2022 till 14th of July 2022. 10 best Chinese teams are fighting for ~ 300.000$ and the only one and the smartest team will take an invite for Worlds 2022!