Esports betting odds
The beginning of the third millennium gave a start to a new type of competition for computer game players. Esports has quickly become popular, lots of new teams and clubs with far-reaching infrastructure have appeared and the spectatorship of tournament has attracted millions of viewers. Obviously, esports has caught interest of big businesses, sponsors and bookmakers. The latter have set up esports betting lines.
The most popular games in esports and betting are DOTA 2, CS:GO, League of Legends (LoL), FiFA, Rainbow 6, Valorant. Nowadays esports betting sites that accept esports bets can offer a broad choice of esports matches.
Esports Betting – Most Popular Bookies
When it comes to betting, a future better will have to opt for a reliable bookmaker. Here you will have to learn more about the following points:
License. It is better to make online bets at licensed booking firms in your country. If the company was not lazy to go through the license procedure, it means that the bookie is going to work honestly for a long time, so the risk of groundless block of your account and failed payout will be minimal;
You should choose famous bookmakers with a dominant name and high promotion activity;
Ask your friends, acquaintances, co-workers, and you will definitely find someone who bets and can recommend a trustworthy bookmaker.
Online Reviews About Bookmakers
This topic should be covered in details. Online reviews about any company are a double-edged sword. In fact, honest reviews help bettors choose a bookie objectively. However, lots of reviews about bookmakers (even on independent sites) can be bogus.
Due to high competition, loads of bookmakers indulge themselves in banal inflation of positive reviews for themselves and negative ones for their competitors. The following points must be found suspicious:
Big quantity of approving reviews. Nobody writes note of praise of companies massively. If a client does not have complaints, they will not bother with writing reviews. It is more likely to find a bad review (or a suggestion for improvement). So, the practice of inflation of positive reviews is used by new companies for creation of the significance effect;
Big number of negative reviews. This situation can happen during the smear campaign of their competitor. These reviews have something in common – they are poorly grounded. The reviews are likely to be short and similar;
Truthful reviews about the company have some distinctions:
They are not numerous;
There are more negative and critical reviews than positive ones (if the company does not stimulate satisfied customers to write reviews);
Negative comments are bigger and in the majority of cases they provide reasoned criticism and description of problems in the company's work;
There are questions about the work of the service among all reviews.
Bookmaking Companies Sites for Online Esports Betting With Real Money
Now it is time to make a recommendation of some particular companies where you can place esports bets today with a minimal risk of losing your wins. The recommendations will depend on location as geographical coverage of various bookmakers is very diverse.
Western Europe
The leaders of esports and sports betting in Western Europe are:
Eastern Europe
The most popular bookmakers in Eastern European countries are:
Russian Federation and Countries of Eurasian Customs Union
The licensed bookmakers where you can make esports bets with real money in RF include:
Parimatch.com
1xStavka.ru
GG.Bet
Central and South America
There we can recommend the following companies:
Asia
Citizens of Asian countries are advised to take a look at:
In our section Bookmakers you can find the list of all esports bookies and links to official sites of the companies.
Kinds of Esports Bets in Popular Disciplines CS:GO and DOTA 2
Now it makes sense to examine the main types of bets for popular disciplines that include CS:GO, Dota 2, LoL:
Bets on the winner of the match. These bets must be the most popular especially among newbies when they decide to pour into their favourite team after their streak of wins at a major tournament;
Expresses. Standard accumulative bets for several outcomes at the same time. They have no differences from similar bets in other kinds of sports. Usually expresses are made for 2-3 outcomes with high probability and low odds. If all your ideas about the outcomes are right, the sum odds are calculated by multiplication of all odds in express which can result in a good reward. However, if one of the outcomes was wrong, it will lead to loss of all express.
Bets on the winner of the map (usually in Bo3 matches). These bets are most often used in the live mode when after the start of the match you can already understand the current power balance and shape of teams. In CS:GO matches, within one map, you can catch a bookmaker on a counterbalance of odds. For example, when one team wins 5-6 rounds, the odds of the opponents will grow to 3,5-7. Then the opponent is gradually getting back to the game and wins 8-7 rounds back, and after the break gets 3-4 rounds in their favour. Now the odds for the other team grow to 3,5-7, and the bettor has a chance to make an arbitrage bet – 2 bets for opposite outcomes with a reward that can cover the lost money in 30-100%. In Dota 2, there is also a good opportunity to make accurate bets in the live mode. Experienced fans of Dota can predict the winner of the map after the draft at the beginning of the game.
Totals. Bets on the quantity of played maps at the match. At Bo3 matches, there can be 2 (the score is 2:0/0:2) or 3 maps (1:2/2:1). The most popular bet is Total Over +2.5. This bet implies that each team will definitely win one map. This option is likely in CS:GO if the match is held for equally strong teams and the prize is important for them when the opponents are in good shape and pick their best maps that must bring them victory. In this case the likelihood of the outcome 2:1/1:2 is very high, the odds for this bet are always lower than a bet on the winner.
Handicap bets. The most popular bet in esports is a bet on victory of the team with Handicap +1.5 in Bo3 matches. Handicap means that we give an additional +1.5 to the final score for the chosen team. This bet is successful if the team wins or even loses with the score 1:2 (to put it another way, we make a bet that the chosen team can win at least one map at the match). This bet can be interesting in matches with a clear favourite and a strong underdog. It is especially interesting if the underdog is underestimated by bookmakers, in this case the odds for handicap +1.5 for the underdog can be 1.5-2 times higher ("heated" odds) than for a victory of the favourite and has a high probability to be winning.
Bets on the winner of the tournament. The name has it all, the odds are not very high but the likelihood to win is very little even if you place bets on 3-4 favourites.
You can learn more about types of bets and betting strategies in esports in our blog.
Use of Tips for Esports Bets
Another way to get profit for esports bets is to use tips. There are lots of communities and cappers that give tips about esports bets on the internet. Someone does it for free, some ask for money for their advice. Not to be left behind the eight ball, you have to choose the source of tips level-headedly.
Settle on one discipline
You should not jump from CS:GO to Dota 2 and then to LoL and back to CS:GO every day. It is better to focus your attention in one direction and to gradually polish your skills in pre-match analytics.
Verify the statistics of the adviser
A decent tipster will never reveal their statistics. If you are offered to pay for a subscription to tips but they don't want to provide the whole statistics of success until you make your first payment, you should turn down the offer.
Analysis of the future bankroll
To benefit in the long-term, the success rate of the tipster must be higher 50% at events with the odds over 2,0. Even if the success rate of the tripster is about 80% (a very high figure) but the events are with high odds 1.1-1.5, you are likely to be in the red or with very low profit.
To illustrate, let us take the following data:
Starting bankroll – 100$
Amount of bets – 10
Example 1.
With the average odds 1.4 and success rate 70% of the $100 bankroll after 10 bets you will have 98 dollars (your loss will be -2 dollars).
Example 2.
If the average odds rise to 1.6, the better will make a profit of +12 dollars.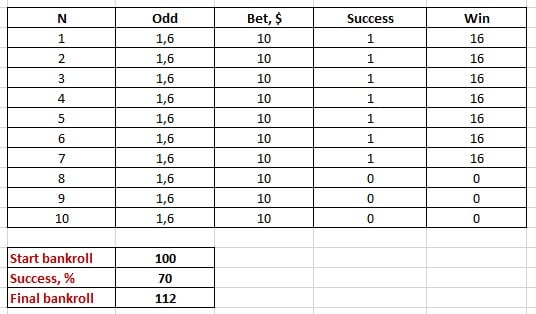 As you can see, good success rate of the tipster does not always make a profit for the bankroll in the long-term due to the fact that you also have to find event with relatively high odds.