Today, March 25, Dota 2 received a fresh update "Spring Cleaning", which is designed to fix a lot of bugs and make changes to a number of game features. We offer you to get acquainted with the main innovations and improvements that fans can experience.
Updated item descriptions for Aghanim' Scepter and Aghanim Shard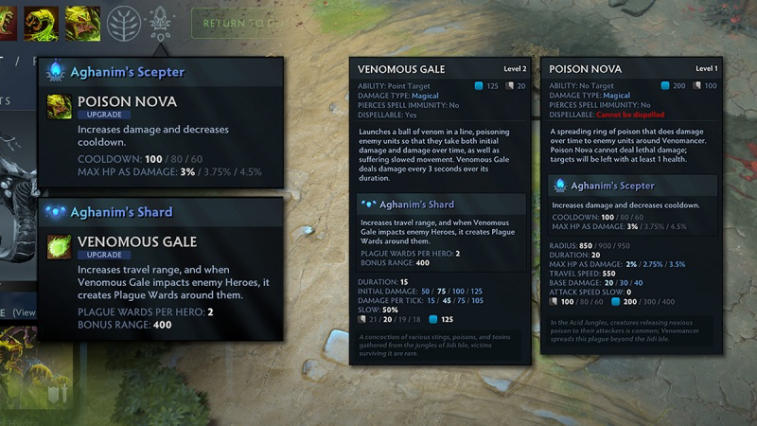 Tooltips have become more detailed, giving players more information. The developers also tried to make the descriptions more understandable.
Changed the system of ignoring players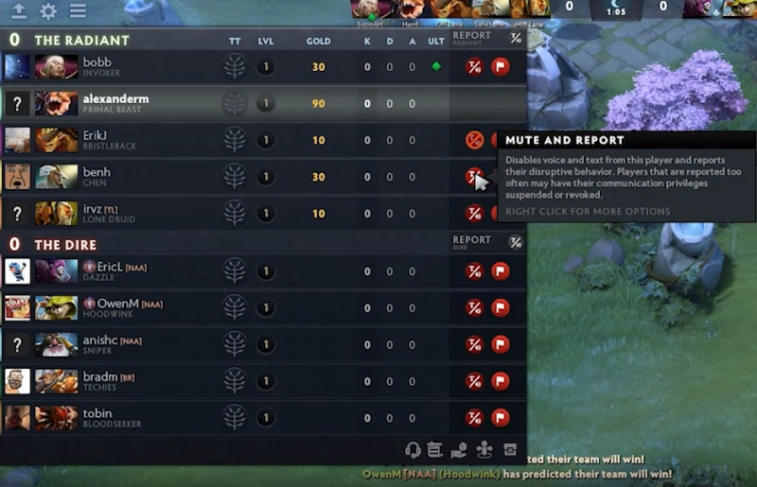 Added one single button (instead of four previously) that allows you to mute a player in both chats and report them. By right-clicking, you can choose whether the player's messages on which of the communication channels to ignore: text or voice. A button to ignore the entire command has also become available. In this regard, the attitude towards complaints about communication will be revised.
Store Search Update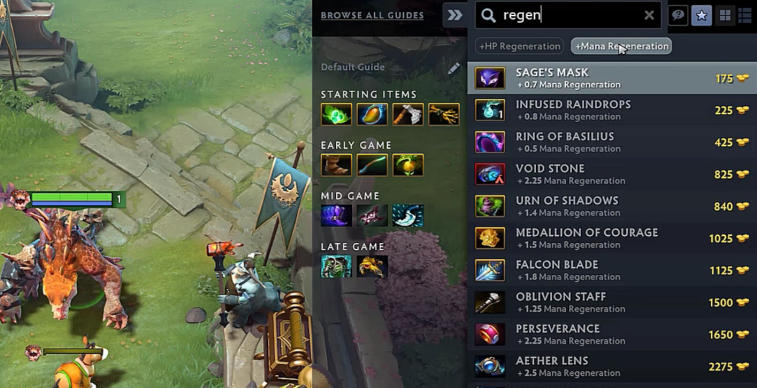 Product store search has been enhanced with improved keyword support, including a display that highlights searched attributes.
Hero Test Mode Improvements
Hero Trial Mode has been redesigned to include new features:
The northern section of the training map has been made larger to provide more flat terrain for experimentation.
Added the ability to easily create allied heroes (not just enemy ones).
Added a button that resets the hero's level to one.
Added a button that can be used to remove a hero after testing is over.
The buttons for invulnerability, leveling, and adding Aghanim's Scepter and Aghanim's Shard now work on all selected heroes.
When disabling creeps, all those on the map will now also be removed.
Added a button that spawns crowds of creeps on each side.
Added buttons to create six boost runes.
Strengthening the color range of markings and hints on items
Now you can see exactly what bonuses give attributes from the item. Damage stats on spells are colored based on damage type.
Gameplay Improvements
Boots of Travel will now prioritize the tower over the creep when teleporting if the player has targeted the tower area.
Players can now sell goods at full price within the first 30 seconds of game start instead of 10 seconds before.
Nyx's Consume ability now uses a single hotkey.
Ogre Bruiser now has sound effects when casting and being stunned.
Auras of all neutral creeps now display their radius when aiming.
Wraith Band/Bracer/Null Talisman descriptions will update at 25 minutes.
Fixed a number of cases where the tooltip heal value did not take multipliers into account.
Players with the fountain invincibility buff will no longer automatically attack and destroy the buff when an enemy is within line of sight.
The cast range indicator for Blink Dagger and analogues now respects spell range modifiers.
Improved the Desolator passive ability tooltip. The item increases damage if an enemy dies while affected by Corruption.
Fixed an issue in ARDM that caused the courier to return an item to the stash to die, causing the item to disappear.
Neutral items can no longer be locked by a build. This change will fix a bug with the courier not delivering such artifacts.
Fixed a bug due to which duplicated effects on illusions had the wrong duration, which betrayed the real hero.
Fixed an issue in Turbo and New Player Mode that prevented gold from certain sources from multiplying.
Fixed a bug due to which some in-game tooltips modified by talents were displayed as 0 instead of the correct value.
Fixed an issue in Turbo Mode that caused the player to lose their courier when disconnected during hero select or the planning phase.
Kobold's Prospecting Aura no longer works on creep-heroes. This is a fix for cases where the aura was giving a double effect.
Interface changes
Vector target selection with quick-release on keypress now starts when the button is pressed and ends when the button is released. In the same way, the normal quick apply with the "Quick apply by keypress" setting turned off.
Skeleton Warrior Rally aura is now tracked by a single buff instead of multiple buffs.
Fixed Arcana item effects in the spectator UI.
Fixed a bug where changing a neutral item and sending one of them too quickly would send the wrong artifact to the base.
Spell lifesteal values on heroes and creeps are displayed separately when holding ALT.
The spectator UI now properly displays which player is being spectated.
Fixed display of heroes on the screen with their demonstration in both teams at the beginning of the game on monitors with a resolution of 21:9 and higher.
Intros that are used to introduce new heroes and introduce Arcana items or alternate personalities will no longer be shown to players who have not completed the tutorial.
Performance refinement
The Panorama UI game engine has been updated to better interact with the GPU. This change provides up to 25-30% GPU performance gains in the UI. Improved CPU interaction on Vulkan and on Apple computers with M1 processors.
Fixed a bug that caused freezes on some computers.
Added a warning to the video settings that will warn you that the computer is in power saving mode, which may affect performance.
Improved the performance of displaying descriptions when viewing a shop.
The Panorama UI game engine has been updated to avoid unnecessary load on the GPU.
The full list of innovations can be found on the official update page.