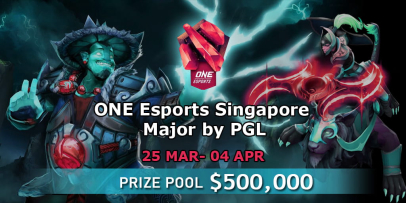 Start date:
Finish date:
Prize Pool: $500,000 USD
Tickets: Not available
Region: Southeast Asia
Location: Singapore, Singapore
Organizers: ONE Esports, PGL
Series: DPC
The first Major tournament in 2021 in the first season of DPC 2021. The tournament will definitely be hosted offline. Singapore Indoor Stadium will be a venue for matches. The prize pool of $500,000 (the winner will earn $200,000) and 2700 DPC points will be up for grabs for teams at ONE Esports Singapore Major 2021. The Dota 2 tournament is divided into 3 parts: Wild Card, Group Stage, and Playoffs.
6 teams, the winners of the regional DPC qualifiers of the 1st season (Upper Division), will proceed to the playoff stage. 6 teams, which have placed 2nd in their regions, will advance to the group stage. 6 more teams will go to the Wild Card stage – Europe (the 3rd-4th places), China (the 3rd-4th place), Southeast Asia (the 3rd place), and CIS (the 3rd place).