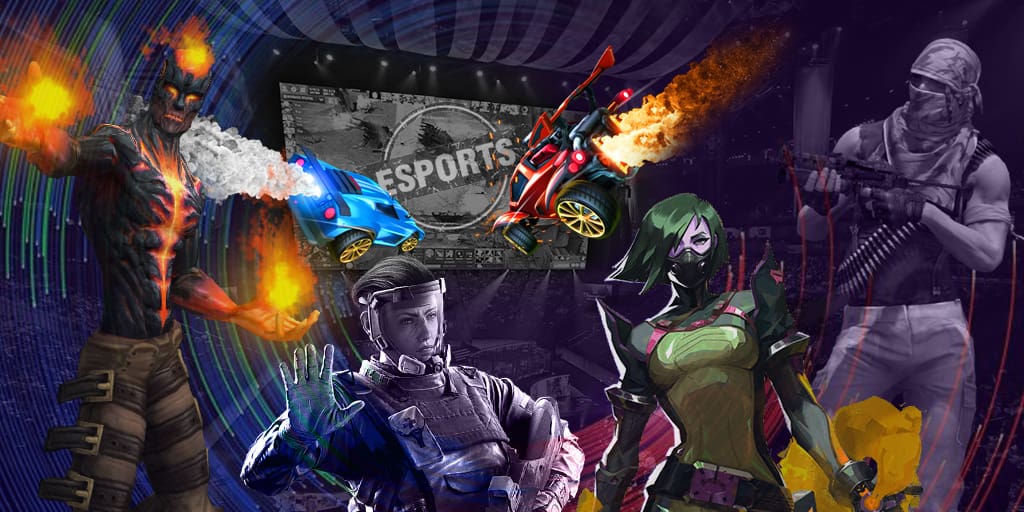 Gambling has made a long way from aristocratic entertainment to neglecting and disdain. Today gambling has become a new field to earn a fortune, and the gambling itself has grown up and penetrated into different spheres of our lives. When gambling went online, its benefits became available for all players. From the neglecting and up to profitable business – gambling managed to rise to #1 entertainment through thousands of obstacles.
Online gambling keeps spreading into our leisure time and even professional activity. It all started in early 90-ies with online casinos and betting rooms, 2000-ies brought more options for players, and 2010-ies are the era of mobile gambling and electronic sports. Stakes on electronic sports are a breakthrough in modern activities. The average age of esports betting fans is lower than in any other field of gambling industry.
As a rule, online gambler is involved into electronic sports, though a person is not a pro. The more a person plays, the closer is understanding of making good money just analyzing other players and teams. You master their game skills and make money placing stakes on electronic sports events and it leads you to success. Still, each of them needs some basis to be aware of everything what they can do during gambling.
Just a decade ago video games were a pastime for schoolboys. Now those schoolboys are grown-ups who conquer the world of electronic sports. International tournaments, regional championships, season events gather world community. Pools for the winners are mind-breaking: champions of the competitions receive the rewards of more than $1 000 000!
The number of tournaments and championships is impressive: games have their own events, regional and international events, events that gather different activities, etc. It is impossible for only one person to participate (especially, if he wants to be successful) in all events. A new bettor should choose one event, and for professional gambler several events. They watch different competitions, analyze competitors, and choose teams which perform perfectly during the matches. Get basic knowledge of a game.
Except for that, remember rules implied in any activity. These rules include bankroll management methods and mathematics of gambling. Please follow our instructions to discover basic principles of important activities and notions.
You can refer to our instruction any time you need it. We recommend to read all the articles, although if you have experience in gambling, you can skip some of the articles, or get acquainted only with some of them. But the full comprehension of the issue leads to increased winning. We will show you how you can reach the top of gambling world making bets on electronic sports and cover the following issues:
How to start?
Several years ago electronic sports became the activity which draws attention of the society: thousands of players made huge money enjoying computer games. Millions of players decided that they can also participate in international events. But it quickly became clear that teams which participate in World Tournaments work really hard to master their skills and perform in international areas. The competitions has always been really tough and millions of players dreamt to join those events. That gave the development for electronic sports betting. Today thousands of players and millions of gamblers follow international and regional events to place stakes on the teams and players.
Egames betting requires the same professionalism and mastery as playing the game. Expert gamblers spend weeks analyzing results of teams and players, comparing their styles and checking odds. Some of the bettors choose only one game to follow, and it results in advantage to their odds. They perfectly know all game principles, teams, and understand the odds of any match.
Two types of gamblers exist. The first one are gamblers who learn out the game, its principles and facts. The second type is gamblers who learn statistics of teams and compare teams' achievements. Both of the ways have their pros and cons. Combination of two these methods can lead to better results.
Reasons of failure?
A common misbelieve concerning esports gambling is that each bet brings huge money here. In reality, it is still gambling, and it still accumulates a share of luck and hard working. Fortune is an effective thing, but it can never become only one key to eternal success.
Tutorials about how to make stakes and manage your money are only basis for the gamblers. Professional players should learn out games, watch matches and miss some events just watching the teams and calculating odds for the up-coming event, following betting guide tips. A person must work hard to succeed. You can always enjoy stakes just as a part of your pastime without paying attention to strategies and learning information.
The secret of success lies in profound understanding of all principles concerning the game itself and betting. However, lack of knowledge becomes the reason of failure.
If you eager to create a good base for betting, read basic guide and play those games. That is useful for understanding the odds, and brings you to increased winnings.