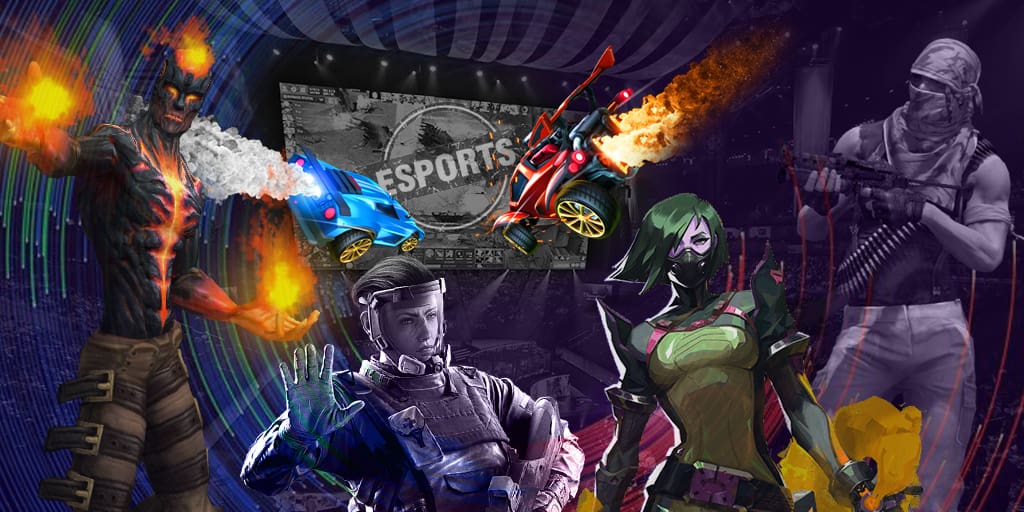 Mathematics and odds are two important components for successful gambling. They are equally important as betting tips and tricks known only by experts. A professional bettor never relies upon his luck only, however, sometimes intuition helps make decisions which lead to winnings. Involving mathematics into a game, a gambler creates a good basis for long-run income.
Comprehension of individual statistics can change everything. Here we explain these two methods.
How to use maths?
Gambling is totally based on betting math. While studying classic casino games you notice that as well as while analyzing esports bets. Mathematics helps in counting chances, and chances are actually the thing which determines the winnings. Look at the following example: a match between two esports teams which have equal chances for winning.
Before game start, the bookmakers establish odds for the event. In our case, teams with identical chances should have 2.00 chances or 50/50. These chances do not favor the bookmaker (bookmaker loses money when settles absolutely fair chances). Because of that, they are reduced to 1.90 or lower. This difference is not essential for a gambler, but it brings quite good profit for a bookmaker. Even 100 bets with 2.00 can lead to great losses for the bookmaker.
There is a formula which can explain you how the chances and math are working in gambling. To count the rate of your success, know valued chances (they are provided by a bookmaker) and the profit you receive if the match favors you stake. The formula for counting the success rate for a player is Y = X*Z. X stands for X, Z is for success, Y is a profit. If the profit rate is higher than 1, the success is by your side. Otherwise, you can lose this stake.
You can count your success rate in each match, however, sometimes the luck plays its role and even the most unpredictable bets win.
Statistics in the game
Mathematics is important, but game style researches can be even more useful for a player. The matter is that chances are counted by bookmakers who are live people, and the so called human factor sometimes takes place. It means that real chances can be different from the presented odds. Take some time to research info which explains your chances better than mathematics presented by a bookmaker.
The example for this situation is as following: two team, both have good performance in tournaments, and the bookmakers have valued chances as 1.83 (which actually means 2.00 or 50/50). Here the time for researches comes, but be wise not to lose the bet. You can get data either with checking data presented by bookmakers and analysts, or making your own research. Both ways are helping, but the second one is more effective (if you are experienced in playing certain game).
When you check data presented by bookmakers, you receive only dry facts and can hardly imagine how the team really plays. For example, these data never indicates team's style. If there are two teams with different playing styles, aggressive and defensive ones, the actual chances can differ a lot from the real ones. As a rule, aggressive play is better when knowledge and game skill of both teams are equal. So in this way the rule of 50/50 chances is not effective – the aggressive team is going to beat a defensive team.
Understand that bookmakers do not compile data using human resources, as it takes too much time. They use special applications which analyze achievements of the team and never pay attention to players' conducts and strategies which team implements in different game situations.
Math vs Statistics or Human Factor in Games
Equations are good, but in real world they are sometimes useless. Playing against bots, you can easily win, as they have very limited logic and act according to the settled indications. The more your play against bots, the more you understand how they act in some situations. But playing with real people is even more unpredictable than playing roulette or slot machines at online casino.
People always act differently. Even if you observe one and the same team, you notice that each time they act differently in common situations. The matter is the playing esports is not a mechanic process, it requires strategy and analysis of each movement. Besides, in esports Internet connection, soft and hardware are extremely important. Such small details as new mouse or keyboard can influence how player acts. And the point is that you never guess what is going on behind the screens. You don't know how players feel, and even who exactly is at the keyboard now. It makes each contest unpredictable and leaves good chances for luck.
In esports, as well as in sports, outsiders sometimes win, and leaders lose everything. A fate, or a mistake, or something might happen, but the result remains the same – human factor works better than any data or mathematics. Unfortunately, you cannot predict that, and you should not rely upon it.
This fact supports the idea that a gambler needs to combine several approaches and works upon raising of the winnings in a long-run game. Estimate chances, make analysis of the participants, check the data, choose the most effective esports betting strategy, and succeed in gambling.