Lil Nas X has a good chance of appearing at Worlds 2022
lie
2750
More about tournaments:
Worlds 2022 LoL
Popular American rapperLil Nas X, who made a name for himself 3 years ago with Old Town Road, is probably now collaborating withRiot Gamesand is rumoredto appearat the upcoming2022 Season World Championship.
Such rumors and suspicions appeared after the musician published the first photos, presumably from the Riot Games office, on his Twitter.
If you pay close attention to the monitor to the left of the Lil Nas X location, there is definitely Miss Fortune art or even concept art on the wallpaper, and there are icons for almost every Riot game along with developer or support apps. And in the task bar of his computer , the Riot client is open.
The community, as always, does not sleep and found a couple more almost direct evidence that the rapper was still at the company's headquarters. Noxus icons or one of the Darius skins in glass reflection. You can watch the full analysis of the "evidence" in the video above.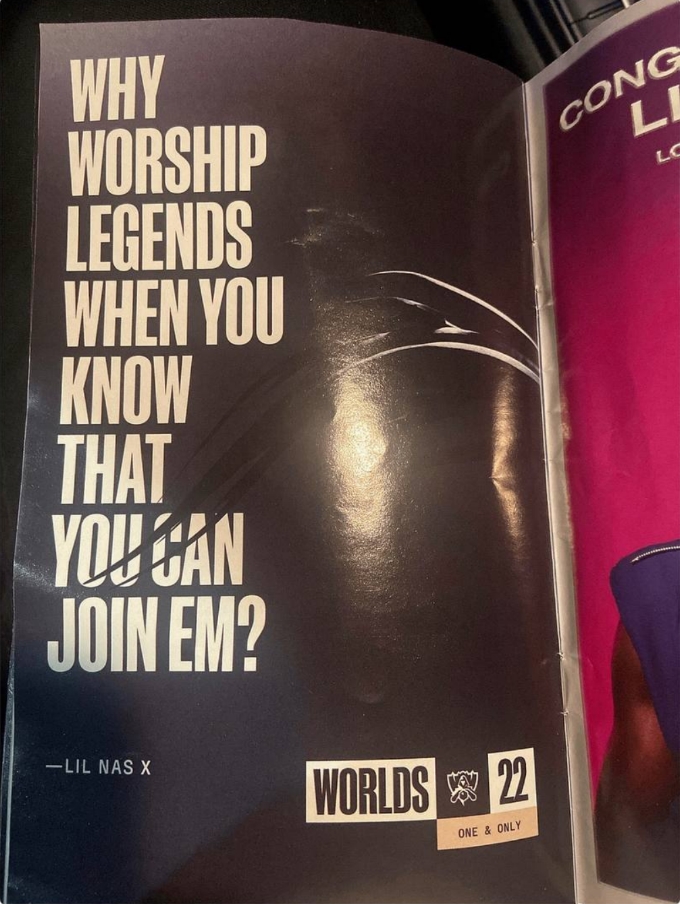 Moreover, an image appeared with something like a promotional booklet, where the collaboration between Lil Nas X and Worlds 2022 is literally confirmed. But so far the origin and authenticity of this picture is in doubt.
Putting all the pieces of the puzzle together, it all boils down to seeing Lil Nas X at the opening of the League of Legends World Championship. But in what role - still remains an intrigue. Fans already have several suggestions: whether it will be an updated line of skins and a continuation of the True Damage musical project, or it will turn out to be a completely new musical brainchild under the leadership of Riot Games. Well, we'll see!
Related news
Bjergsen leaves Team Liquid
UNF0RGIVEN to leave MAD Lions
Worlds LoL
Worlds 2022
LEC
LCK
Cloud9 became champions of LCS 2022 Championship
LCS
Worlds LoL
Worlds 2022
Cloud9
Champions Queue returns for Worlds 2022
LoL Latest news