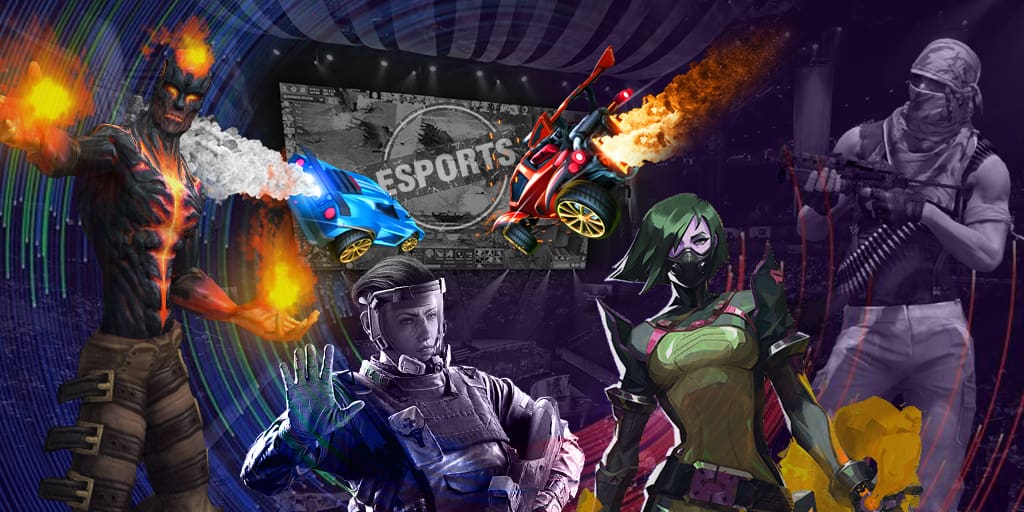 With the growing popularity of esports disciplines, more and more boys want to build their careers around computer battles. However, not everyone can get into the big esports. You need to pass a long and tough way, gaining experience and skill on amateur and semi-professional CS:GO tournaments. As a result, only a few people can make it. However, it is interesting to look at the path from the ground floor, which will be passed by everyone who decides to get involved in this wonderful industry.
The start of a career for beginning CS:GO teams
Initially, you will need to assemble a stack of five people. A coach doesn't play a key role in the initial stages. A team will be developing a team play in the beginning and playing tournaments for fun. You need to find interesting events in your city: look at a bracket of events in local computer clubs, read about events, which are hosted by regional esports organizations. Universities, online shops, banks can organize esports events in large cities.
Besides, there is a lot of online resources today, which offer to host a match between low-level teams online. If possible, you can go beyond the city to get experience and new connections.
You should start with small things. Everything can't be achieved at once. On the outcome of all of this, there is one main algorithm – none of the professional players started on a high level. Every esports, starting from s1mple and ending with device — all of them started from amateur competitions and only after that, developing and moving forward, entered the professional level.
When a team has gained muscles
You will have to stay on the amateur level for a few years. Yes, this period sometimes takes a few months, if the team crushed all its opponents. But to move on a new level, you need not only to be prepared in gaming terms but you need to mentally realize this step.
You will have to pay a small contribution to participate in semi-professional tournaments. Some of this money goes to cover expenses and some of this goes to a prize pool. You can try yourself at FACEIT. This platform provides an opportunity to play with stacks and make it to the top of the league where you can earn solid prizes. The platform's cons include only online matches. However, this is a nice opportunity to evaluate your power compared to serious opponents.
Teams, which are going to become professional, will have to pay attention to tournaments with the smallest grabs. You should not think about money here, despite what is said by young and inexperienced gamers. None of the professional esportsmen doesn't place the material aspect first. Money is not a goal but a result of the team's high results.
How can amateurs and beginners search for tournaments?
This question should not be asked at all in the age of rapid development of informational technologies. The Internet allows people to find the necessary information quickly. It is enough to write the required request in a searching system and check pages with results.
Today, there are many online resources, the main topic of which is esports, in particular, Counter-Strike: Global Offensive. Definitely, the majority of them include information about professional events. However, decent online resources can be found on the web, which openly offer to take part in tournaments.
Things are way easier on the amateur level. Once again, all necessary information can be found with the help of the Internet. Every computer club posts information about hosted events on its website and social media. Dozens of amateur teams gather at such events.
The algorithm of participation in such tournaments is simple:
A team searches for the appropriate tournament;
An application for participation is submitted;
Together with this, the team provides information about players and sends an entry contribution;
A team arrives at a venue of the tournament on an opening day (if the competition is hosted as a LAN);
A team plays until it is eliminated or wins the tournament;
Becoming a professional
Moving on a high level
After an amateur team understands that it is ready to reach the next level, it can try to make it to larger-scale competitions. The majority of CS:GO championships have both closed and open qualifiers.
The difference between open and closed qualifiers is in their accessibility for everyone. For example, organizers host open qualifiers on the earlier-mentioned platform FACEIT to give away two invites to the closed qualifiers to the best participants.
As soon as a team qualified to the closed round, the most interesting thing begins. There, players will face professional CS:GO teams. In the case of successful performance, the team will receive an opportunity to play in a LAN final of a tournament with a large prize pool. A loss doesn't provide prizes but the priceless experience remains.
The brightest example of a nice chance for beginning teams is a series of DreamHack Open tournaments. They are hosted a few times in a year all over the world and the prize pool of each of them amounts $100,000, which is pretty good for new names on the professional scene. Due to the existence of open qualifiers, we can see both GODSENT and MARSKALK, for example, on the list of participants of the same tournament (hello, DreamHack Open Winter 2019).
When a team makes a statement at professional tournaments of such a level, esports organizations might contact it to make an offer, from which it is difficult to refuse. And who of CS:GO players would not like to sign a contract, which makes esportsmen play this shooting discipline for a salary.
Generally, the mechanism of participation in events is simple. The main thing is not to fear and get experience, improving your skill and level of playing. There is nothing impossible and everyone has a chance to make it to the professional scene.