Hwei the Visioner and Everything We Know About the 166th Champion of League of Legends: Release Date, Abilities, Role in the Game
auroralance
3421
During the Worlds 2023 Grand Finals between T1 and Weibo Gaming Riot Games unveiled a new League of Legends champion. His name is Hwei and he is an artistic centre line mage with a unique set of abilities.
We have collected in one place everything that is already known about the 166 champion in League of Legends. In this article, we talk about everything from the release date and skill set, to the role in the game and the cost of the champion.
Hwei Release Date in League of Legends
You won't have to wait long for Hwei: the champion will be available on League of Legends PBE servers on the 21st of November. As for the release in the main client of the game, it is scheduled for the 5th of December this year. Together with Hwei in the game will be released the last in the season 2023 update 13.24 and the line of images "Winter's Tale".
The cost of Hwei in League of Legends

Hwei, who will appear in the League of Legends shop on 5 December will cost 7,800 shards of blue essence. After a while, the champion's cost will drop to 6,300 shards.
Hwei's abilities in League of Legends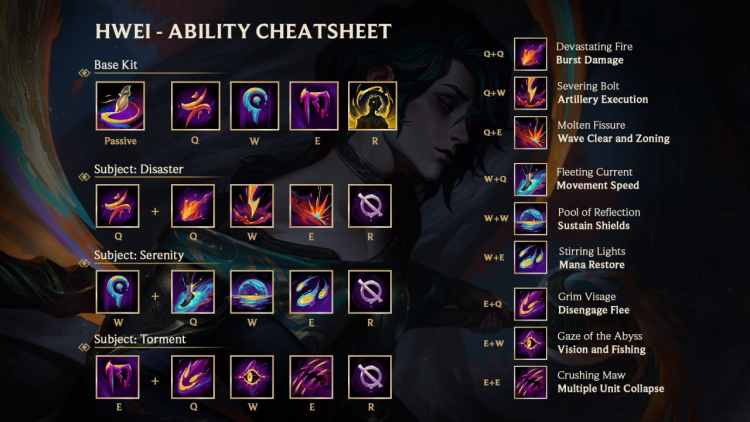 Since the eccentric mage will be appearing in the game tonight, it's worth learning more about Hwei's arsenal of abilities before heading to the PBE servers to conquer the central line. And looking ahead, it's worth noting that Hwei's arsenal is absolutely huge.
The list of Hwei's basic skills:
Passive: Signature of the Visionary
Subject: Disaster (Q)
Subject: Serenity (W)
Subject: Torment (E)
Spiralling Despair (R)
As you can see, Hwei focuses on the so-called "Disciplines" in combat. There are three of them: Disaster, Serenity, and Torment. And each of the Disciplines can be combined with each other! Thus, Hwei has 10 skills in addition to the usual three abilities + ultimates.
List of Hwei combinations:
Subject: Disaster (Q)
Devastating Fire (Q+Q)
Severing Bolt (Q+W)
Molten Fissure (Q+E)
Subject: Serenity (W)
Fleeting Current (W+Q)
Pool of Reflection (W+W)
Stirring Lights (W+E)
Subject: Torment (E)
Grim Visage (E+Q)
Gaze of the Abyss (E+W)
Crushing Maw (E+E)
At first glance, it may seem like a lot to take in and it's unrealistic to understand Hwei's abilities. That's what we're here for! Let's find out what and how the future League of Legends champion works.
Explanations of Hwei's abilities: how to create skill combinations and what they do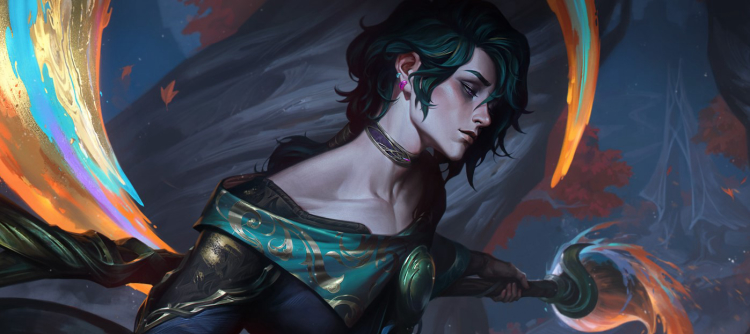 Hwei is a centre line mage. In the game, he focuses on abilities and only on them, which is not surprising because there are as many as 10 of them. Hwei's mechanics are tied to "Disciplines", of which the mage has 3: Disaster, Serenity, and Torment. Each discipline is tied to a specific playstyle. Also not to be forgotten is the passive skill Hwei, which allows you to grab an advantage over enemies in the laning phase.
Passive: Signature of the Visionary - Hwei marks the enemy with colours on the first hit with a damage dealing ability. The next hit with a damage dealing ability creates a mark under the enemy, which explodes after a short period of time.
Subject: Disaster (Q) - Responsible for damage dealing abilities. Disaster can be considered a basic nuke, as it has the lowest cooldown. Combinations with Disaster allow you to create Burst damage abilities:
Devastating Fire (Q+Q) - Launches a fireball that explodes on contact with an enemy, dealing damage in a small area.
Severing Bolt (Q+W) - Summons a pillar of fire that deals damage to enemies hit by it and slows down affected targets.
Molten Fissure (Q+E) - Summons a wave of fire that deals intermittent damage to enemies caught under it.
Subject: Serenity (W) - The "aspect" responsible for support abilities. It has the highest cooldown of all non ultimates.
Fleeting Current (W+Q) - Hwei creates a "water carpet" in front of her, increasing her movement speed.
Pool of Reflection (W+W) - Hwei creates a water bubble that gives a shield to allies inside. The shield's strength increases over time.
Stirring Lights (W+E) - Hwei summons three water spheres that surround him. The spheres increase damage from auto-attacks and abilities (maximum number of improved attacks is 3).
Subject: Torment (E) - Torment is responsible for debuffs and periodic damage. In addition, Torment class abilities grant control (fear, slowdowns, immobilisation).
Grim Visage (E+Q) - Hwei fires a blob of dark energy that explodes upon contact with the first enemy and imposes a horror effect.
Gaze of the Abyss (E+W) - Hwei fires a projectile that creates an area around the point of arrival. Enemies hit by Gaze of the Abyss are first immobilised and then slowed. The duration of the negative effects depends on the time spent inside the area.
Crushing Maw (E+E) - Hwei summons a "maw" that devours enemies. Enemies hit by Crushing Maw are slowed. If the ability hits multiple targets, they are all drawn to the centre.
Spiraling Despair (R) - Hwei's ultimatum ability has two functions: the ability itself, and the regulation function. Hwei unleashes a charge that binds to the first enemy in its path, dealing damage and creating a field of negative energy around it. The field expands over time, slowing and dealing intermittent damage to all enemies inside. When the ability ends, the charge explodes, dealing heavy damage. An adjustment feature is the ability to cancel the chosen combination: that is, if you collected the wrong ability, you can cancel it by pressing the R key.
How to play as Hwei in League of Legends? His strengths and weaknesses, his role in the game

As designed by Riot Games, Hwei is the champion of the central line. Obviously, he has enough resources to be a comfortable laner. Disaster School abilities allow him to drain his opponents' health, Serenity class abilities keep Hwei from losing resources, and Torment adds control to the champion. All in all, so far Hwei looks like a versatile soldier that can handle any matchup.
Additionally, Hwei looks like a champion for multiple roles. The Serenity and Torment school abilities, designed to support resources and control, hint at Hwei's possible appearance on the bottom line as a support champion. Agreed, shields on allies and fear on enemies looks like something that will allow the bottom line to be dominated pretty quickly.
Given his extensive and versatile arsenal of skills, it's logical to assume that Hwei will have a short range of abilities and an impressive skill cooldown time. In addition, his late-game skail remains a question mark.
Either way, Hwei is a unique and obviously the most The International Heresy character in League of Legends in Riot Games' entire MOBA history. We look forward to Hwei's release on PBE servers on 21 November and in the game's client on 5 December.
Recommended
Latest articles