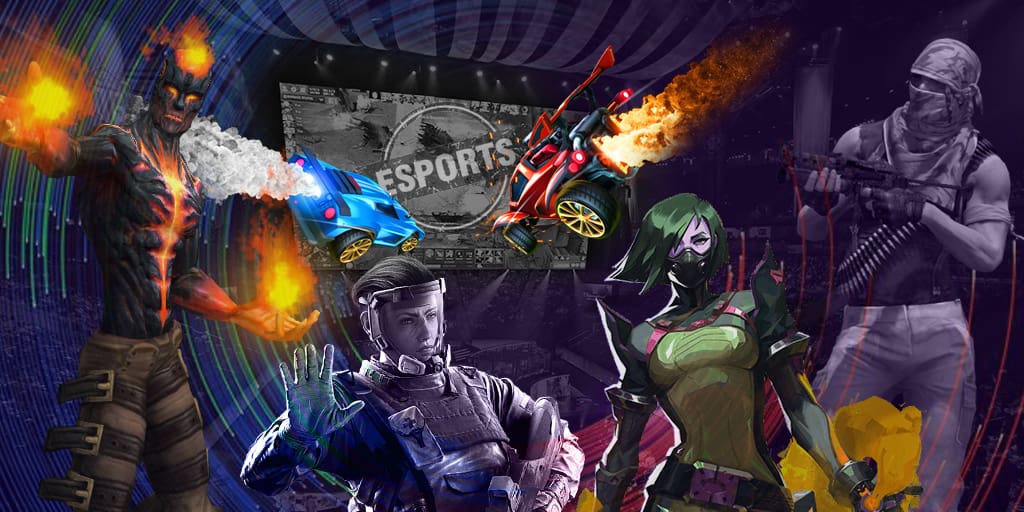 CS:GO is a leading shooter with long history, huge number of new versions, and world-wide fame. First Counter-Strike game has been released long since 1999, with the newest version Global Offensive released in 2012. Players anticipate new editions and new maps to get involved into new CS world.
With regular updates of the game, Counter-Strike remains to be popular shooter game with regular competitions and tournaments. CS:GO is included to esports competitions as the most captivating and intense battles.
CS:GO is a first person shooter, available for team vs team and pvp mode. CS:GO is available for PC (Windows, Linux, OS X) and game consoles.
A team needs to complete objective to fulfill game mission and win. The objectives depend upon the scenarios – Deathmatch or Hostage.
Deathmatch's objective is to get more kills during the match time, and Hostage's objective is hostage rescuing.
CS tournaments with cash prizes attract many players and many bettors who prefer games with competitive odds. Cash prizes are gathered by the investors and CS community. Prizes accumulate, rising to thousands of dollars, and the winning participant or team of the tournament receives all the reward. The biggest international tournaments offer bigger rewards than local tours and amateur competitions. A gambler should choose an event according to his style of playing.
Types of Bets
Though CS:GO is also played pvp mode, tournament are regularly hold by among teams of players. Bets are predetermined by this conception of tournaments, and types of CS:GO bets are various. You can place a short-time bet, or long-term bet. The first is used for particular event, and the second on the result of total event. Long-term bets can be played only in advance. Short-term bets can be placed before match begins.
Except for these basic bets, there exist some bookmaker websites offer additional bets for users. For example, during international tournaments you can wager on nation of the winner team (UK team, or team from other country).
CS:GO remains the most popular shooter available to make bets. With a long history of development, huge number of admirers, the number of tournaments is also impressive. CS:GO has become the first game in esports which became available to wager. Perhaps, that is the reason of creating a Counter-Strike betting strategy is necessary.
Pro leagues and world championships offer pools of more than 1 million of dollars. There are several leagues, including competitions for professionals, and newly created teams. If certain matches attract your attention, please refer schedules at the bookmaker websites.
Biggest Tournaments
There are several international competition for CS:GO, though professional players regularly choose only some of them. Each Counter-Strike tournament attracts millions of gamblers and thousands of professional players. And the reason is huge money pools which are offered to participants.
Dreamhack is the biggest CS:GO competition which is held twice a year. Best teams are invited to this competition. Dreamhack offer not only CS game tournaments, but also other games. Swedish teams regularly dominate in Dreamhack competitions, though players from other countries also receive the grand prix of the championships (French team in 2014, and Ukrainian team in 2010).
CS:GO events are held all the year long, including some international matches. There are also special seasonal matches. Among other popular CS:GO competitions Pro League, CEVO Professional and the Counter Pit League also deserve the attention of the bettors.
Counter-Strike gamblers always look for the most paying events. Pay attention: to win big, the biggest events are not the best choice. The matter is that the winning usually depends on the odds and number of participants. Local events accumulate lower number of bettors than international ones.