BLAST Pro Series Season 2: Istanbul , 2018 schedule, match results, and betting predictions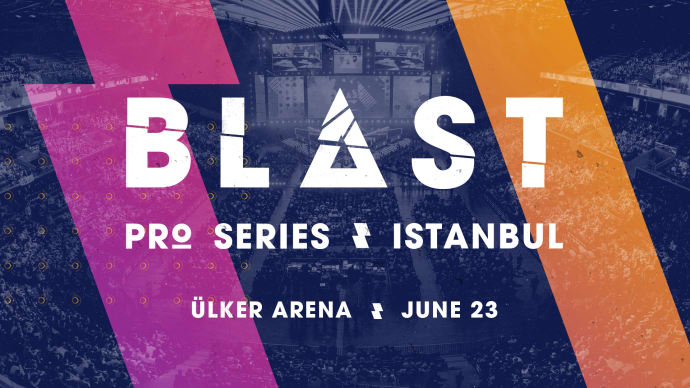 Start date:
Prize pull: $250,000
Format: Group Stage: Round Robin with Bo1-matches. Grand Finals: Bo3-match. Standoffs: 1x1 Duels
About the championship and the tournament
BLAST Pro Series will be held by the same eSports organization. This event will be the second held tournament. The first championship was held last year in Copenhagen, and the Brazilian team SK Gaming became the winner of the first season.
All the participants were invited directly.
The tournament will be held in Istanbul on 23-24 June in Istanbul, Turkey and the holding place will be Ülker Sports Arena.
An interesting fact: BLAST Pro Series was postponed one day later by the number of viewers' requests as students want to pass the exams in Turkey and then to visit two days of the tournaments.
Holding format and prize pool
BLAST Pro Series Season 2: Istanbul will start from the group stage which will take place with the system Round Robin with Bo1 matches. The best participants of their groups will get to the grand final and will play a match in the format Bo3. The other collectives will get to BLAST Pro Standoffs. This stage will be a showmatch with five duels. The winner of Победитель BLAST Pro Standoffs will get a prize of $20,000.
The prize pool of the tournament is the same. Participants will fight for $250,000, the sum $230,000 is a part of the common prize pool and $20,000 will be given to the winner of BLAST Pro Standoffs.
The prize pool of $230,000 will be divided between the participants this way:
| Place | Prize |
| --- | --- |
| 1st | $125,000 |
| 2nd | $50,000 |
| 3rd | $25,000 |
| 4th | $15,000 |
| 5th | $10,000 |
| 6th | $5,000 |
The coverage of the tournament
Adam Savage will be the main host of the event and the loved-by-everyone Paul "Redeye" Chaloner will be a dest host. Tomi "lurppis" Kovanen, Fabien "kioShiMa" Fiey, and Christine "potter' Chi will analyse matches for viewers. We will watch matches under the comments of such famous and experienced casters as Anders Blume, Jason "moses" O'Toole, Daniel "ddk" Kapadia, James Bardolph, Conner "Scrawny" Girvan, and Mohan "launders" Govindasamy. David "DJ" Kuntz, Heather "sapphiRe" Garozzo, and Efren "encg" Chuong will observe the championship.