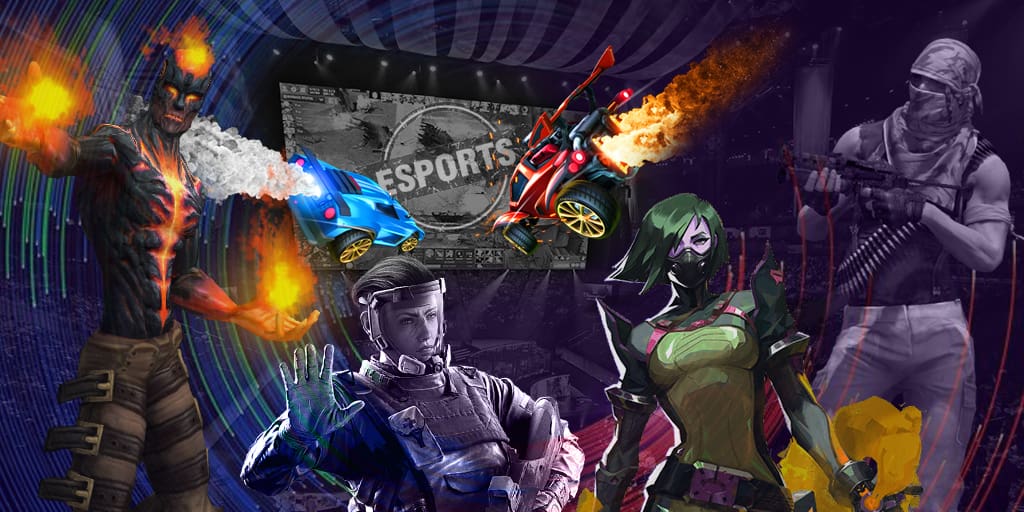 It's not a secret that one of the main reasons why the esports is so popular is a chance to earn on esports events. The majority of bookmaker companies accept payment only through various payment systems. We have previously told about the opportunity to make a bet using in-game items from Dota 2, CS:GO, PUBG and others. This time, we will tell you about the opportunity of earning real money with a help of your knowledge in Dota 2 and CS:GO.
What are the differences between bookmakers?
Bookmaker companies differ in that they can take bets on various results, besides a different entry threshold (a minimal payment). Some bookmakers take bets on such classical results as a victory and rounds or maps handicap. Other bookmakers can expand their number of results to such unusual ones as "A kill by a Molotov: Yes/No" and others. The choice of bookmaker company is a very subjective thing. Due to many factors, such bookmaker company as 1xbet.com will fit one kind of people, while others will choose loot.bet.
It's also worth to pay your attention to that some companies take express bets with results of the same match or a few bets on one match. For example, there is a bo3 match Natus Vincere vs Team Liquid. You can make an express bet on a victory by Natus Vincere and maps handicap +1,5 (in the favor of Na'Vi if Liquid is a favorite of the match) in one bookmaker. In another bookmaker company, if you add two results on the same match, you will receive a message that you can't bet twice on the same event.
If you are interested in such an opportunity, you will have to check if a bookmaker provides the opportunity before making your first deposit. Otherwise, bad news will be waiting for you.
It's also worth to notice the fact that some bookmaker companies are being up-to-date and accept cryptocurrencies. We can't state that this opportunity is very popular among people who like making bets but it can't be called odd.
What do you need to know before start betting on the esports?
First of all, we recommend you to read the rules of one or another bookmaker company and to bet on the results, which meaning you know for sure.
If you are good at earning money on bets, you will have to be ready that you will need to provide identity documents to a bookmaker after passing a certain threshold. Bookmaker companies fight with frauds in such a way.
The rules of money management
Follow the rules of money management is one of the main advice, which we can give you regarding bets on the esports.
One of the veterans of the American betting, R.J. Miller has told about one of the best methods to save your money and to accumulate them. Actually, he makes bets on traditional kinds of sports but the rule of money management can be used in the esports.
According to the recommendations of the American, you need to choose the perfect sum of your bet, which is consistent with your bankroll. For example, this is 2% if your bankroll amounts $100. Update a sum of your minimum bet with the growth of your bankroll (for example, on 25%). We will explain using the example further.
Imagine that you have decided to try to earn on bets and deposited $100 to your account in a bookmaker company and also decided that a regular sum of your bet will be 2%. This means that you will bet 2$ until the sum of your bankroll will not be increased to $125 (the bankroll has grown on 25%). When you get to the sum of $125, you will update your standard bet, which will be equal to 2% of $125. You will bet $2,5 from now on. If you have a losing streak, do not lower the sum of your bet to $2 because you will need more bets for safety. If you are doing well, the next threshold to increase your bet will be 25% of earned money from $125. 25% of $125 = $31,25. $125 + $31,25 = $156,25. Consequently, you are getting to the next level. Now, your bet (2%) will be equal to $3,12 ($156,25 *0.02=$3,12). And so on. Following the rule of money management, you will minimize your risk and rise progressively. If your bankroll is $1,000, a sum of your bet will, respectively, be lower than in a bankroll in the sum of $100.
The conclusion
Having found a bookmaker company with the interface and the rules of depositing/withdrawing money you like and appropriate results on one or another match and also following the rules of money management, you will manage to make the esports betting an interesting hobby with an opportunity of good earnings.