The second week of regular games on the DPC 2021/22 Tour II is over. We watched a lot of matches, and now we are ready to summarize everything in one material.
Results of the second week of DPC 2021/22 Tour II in Western Europe
In the upper division of Western Europe, 5 matches took place, instead of 6 scheduled. In any case, this is more than other standard 4-game calendar weeks.
Secret 0-2 Tundra
Brame 0-2 Entity
Team Liquid 0-2 OG
Team Secret 2-1 OG
Gladiators 2-1
Based on the results of two weeks, Gladiators are at the top of the standings with 2-0 statistics and Tundra with the same indicator. OG and Secret follow with a score of 2-1, Entity is in the middle, and Team Liquid closes the standings.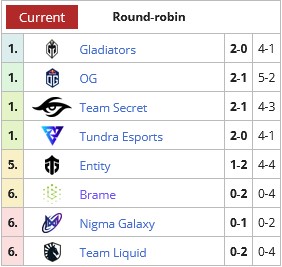 In the lower division, everything went according to plan. Played 5 matches, of which only 1 ended with a score of 2-1.
IVY 0-2 goonsquad
CHILLAX 2-0 Into The Breach
Alliance 2-1 Bald Reborn
Chicken Fighters 0-2 goonsquad
Bald Reborn 0-2 Into The Breach
So far, the sole championship belongs to the goonsquad, which have 3 wins in 3 matches. You can see the position of the rest of the commands below.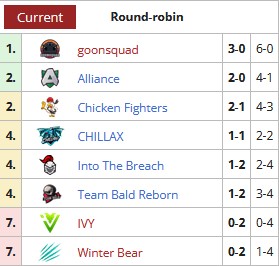 Results of the second week of DPC 2021/22 Tour II in China
The top division of China pleased with 5 matches. Of these, only 1 was combat and ended in a full-fledged bo3.
Vici Gaming 0-2 RNG
EHOME 0-2 PSG.LGD
MagMa 1-2 Xtreme Gaming
PSG.LGD 2-0 MagMa
EHOME 0-2 RNG
Division championship for PSG.LGD with 3 wins. RNG and Xtreme breathe in the back, but LBZS and MagMa are doing very badly.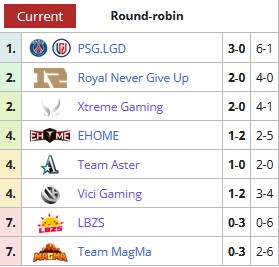 The lower division turned out to be more saturated for close games, but not much. The main sensation of the week was the defeat of Invictus Gaming.
Phoenix Gaming 0-2 Dandelion Esports Club
ShenZhen 1-2 Aster.Aries
Sparking Arrow Gaming 2-0 Ybb Gaming
ShenZhen 2-1 Sparking Arrow Gaming
Invictus Gaming 0-2 Dandelion Esports Club
DEC have greatly strengthened their positions, thanks to which they now occupy 1st place in the overall standings. Aster.Aries and IG are next, while Ybb and IG Vitality close the standings.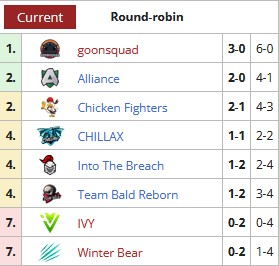 Results of the second week of DPC 2021/22 Tour II in Southeast Asia
The top division of Southeast Asia in the second week was one of the most colorful. Only 1 match ended 2-0.
T1 2-1 Nigma Galaxy SE
BOOM 2-1 Polaris Esports
Execration 1-2 Neon Esports
Fnatic 2-1 Execration
T1 2-0 Team SMG
Fnatic are in the lead, having won all their matches, followed by Polaris Esports and T1, with 2 wins and 1 loss in reserve. At the bottom of the standings after two weeks were Execration.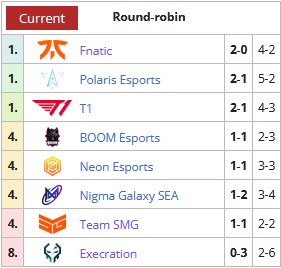 There was a full house in the second division of Southeast Asia: 6 matches took place at once instead of 5 planned.
Lilgun 0-2 RSG
TNC Predator 2-1 UD Vessuwan
The Apes E-Sport 0-2 UD Vessuwan
Motivate Trust Gaming 0-2 Talon
TNC Predator 0-2 Lilgun
Talon Esports 2-0 Army Geniuses
So far, RSG has unconditional superiority, having won all 4 matches. The closest thing to their success is Talon Esports.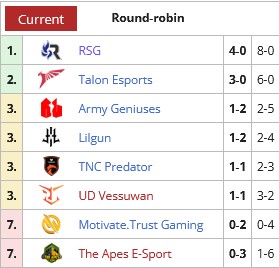 Results of the second week of DPC 2021/22 Tour II in North America
In the top division of North America, the second week passed without incident. All the favorites won their matches, although not without problems
Quincy Crew 2-1 4 Zoomers
TSM 2-0 simply TOOBASED
Cut 2-0 Team DogChamp
Evil Geniuses 2-0 simply TOOBASED
Quincy Crew 2-1 Team DogChamp
Two matches with the participation of Quincy Crew are worth highlighting here: the team gave up 2 maps in 2 matches, but this did not prevent them from winning all the matches and taking 2nd place in the group on a par with EG. Worst of all are simply TOOBASED and Team DogChamp with 0-3 stats.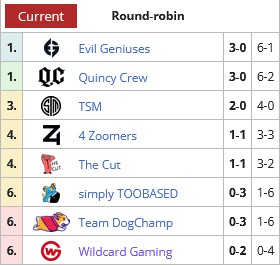 The second division turned out to be poorer in colorful results. Only 1 match ended 2-1.
5ManMidas 1-2 KBU.US
Arkosh Gaming 0-2 5RATFORCESTAFF
Black N Yellow 0-2 Felt
5ManMidas 0-2 5RATFORCESTAFF
Arkosh Gaming 0-2 The Mystery Machine
In two weeks, 5RATFORCESTAFF and The Mystery Machine managed to gain a foothold on the top. At the bottom of the table are 5ManMidas and Black N Yellow, with stats of 0-3 and 0-2, respectively.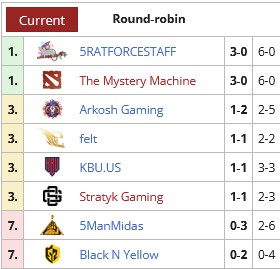 Results of the second week of DPC 2021/22 Tour II in South America
Beastcoast rule the roost in South America's top division. After two weeks, the Peruvians hold the lead.
INF.UESPORTS 0-2 Hokori
Lava 0-2 Thunder Awaken
Balrogs 1-2 APU King of Kings
Hokori 1-2 Beastcoast
INF.UESPORTS 0-2 Lava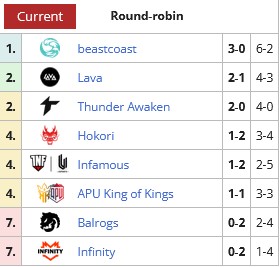 Speaking about the lower division, we can summarize that there were no special sensations here. NoPing is still dominant.
SG esports 0-2 Interitus
Wolf Team 2-0 Gorillaz Pride
Omega Gaming 1-2 Dreamers
NoPing 2-0 Interitus
Wolf Team 0-2 SG esports
A confident superiority for NoPing e-sports, going through the tournament with a score of 3-0. They are followed by SG esports with 2-1 statistics.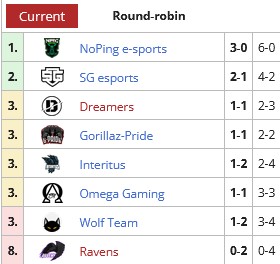 DPC 2021/22 Tour II matches continue today. In the morning there were matches in China, and ahead of the central confrontation in Western Europe.
[break]matches_Vk7Fw1-4s[break]